Shabby style
furniture: the ultimate guide

The Shabby Chic style is a celebration of a taste for details, which come to light under layers of paint. These are often furniture and accessories that have lost none of their charm, despite the obvious signs of use.
The Shabby Chic style is a celebration of a taste for details, which come to light under layers of paint. These are often furniture and accessories that have lost none of their charm, despite the obvious signs of use. Whether it is a beloved family heirloom or a small item unearthed at the flea market, each piece has a unique personality. And the combination of so many unicums creates an atmosphere full of intimacy, nostalgia and classic elegance.
Vintage, but with criterion: only then is it shabby
The term shabby, literally shabby, is softened and made elegant, in short chic. The basic philosophy is the reuse of vintage furniture and accessories, which are given new life. Mind you, nothing is left to chance: there is great attention to detail. But shabby would not be chic without a dash of dusty glamour. To this end, glittering accessories that bring a touch of retro eleganceare sparingly scattered here and there: a silver vase, a sequin cushion, lavishly decorated frames and mirrors. Everything contributes to the romantic, dreamy glamour characteristic of this style. In shabby furniture, memory is the protagonist. Therefore, it is worth choosing furniture components that are rich in personal memories: an old crystal chandelier that belonged to your grandmother, a hat box stored in the attic, a leather suitcase with its patina and a few scratches, or a nostalgic lamp with lampshade, a family heritage.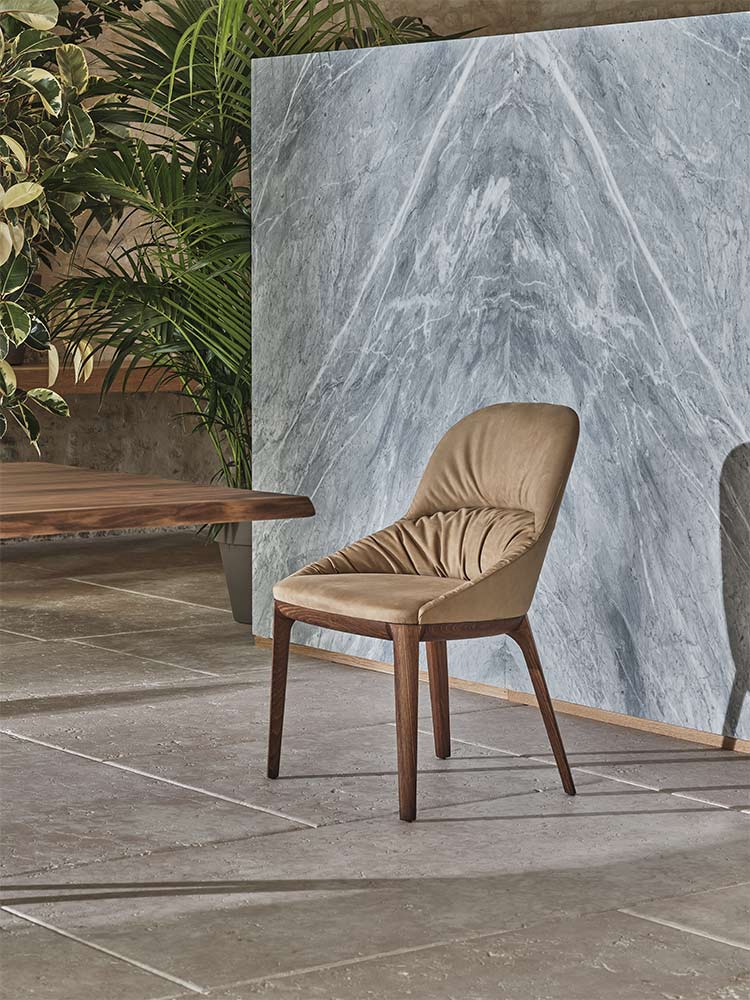 What characterises the shabby style
The shabby style allows the whole house to be decorated with elegance and freshness. This type of furniture was inspired by the typical fashion in England where houses, both country and city, were adorned with natural, white and romantic fabrics. The result is always refined and refined, conveying relaxation as well as purity and authenticity. Among the advantages is the fact that only a few small decorative complements are needed to give the room a shabby atmosphere: in the kitchen, for example, even in a modern room with grey tones, the right ceramics will suffice. Cups, bowls, bowls in pastel colours, worked in a romantic style.
The mistakes to avoid are simple to summarise: no bright colours. Maintain a certain consistency, do not juxtapose decorations that are too different from each other, exaggeration can lead to kitschy drifts. And above all, do not confuse shabby with Provençal style: in Provençal furniture, the furniture is not old and the colours recall lavender fields, wisteria. Wrought iron is also used a lot.
Shabby style: colours, materials, interior, exterior
The charm of faded colours. The colours alone manage to convey an idea of warmth. In this case, dusty pastel colours set the mood. Pink, turquoise, light blue or soft purple and yellow are present on accessories and furniture with a matt surface and are also found on textiles to form dreamy patterns. Matt pastel shades give the impression of once-glossy surfaces that have faded as a result of wear and tear and the passage of years. At the same time, however, they also emphasise the elegance of the woods used and revive memories of times gone by.
Fine fabrics and floral patterns. If you want shabby chic furniture, you can indulge in materials and patterns. Let velvet fall sumptuously, exploit the effect of delicate lace and lustrous silk, or let linen and cotton muslin show their characteristic look, acquired over the years. These high-quality fabrics particularly like to be covered with patterns rich in history. It is certainly no coincidence that the most beautiful variants of cashmere patterns or sumptuous toile de jouy motifs were all the rage at the time. Elegant combinations can also be created with motifs from the kingdoms of fauna and flora, and it does not matter whether you use a plaid, a cushion or curtainsto do so.
Shabby Chic also in the garden and terrace. In the garden or on the shabby chic terrace, there are countless possibilities to evoke the charm of times gone by with individual objects found here and there. A plant table made of solid wood, placed close to the outside wall releases all its nostalgic charm. The teak wood furniture, with its worn look, invites one to enjoy the terrace. The accessories range from wrought iron trellises to candleholders in the shape of antique lanterns, so as to decorate the garden in an aesthetically consistent way with the interior design.