How to create a real
living room in the garden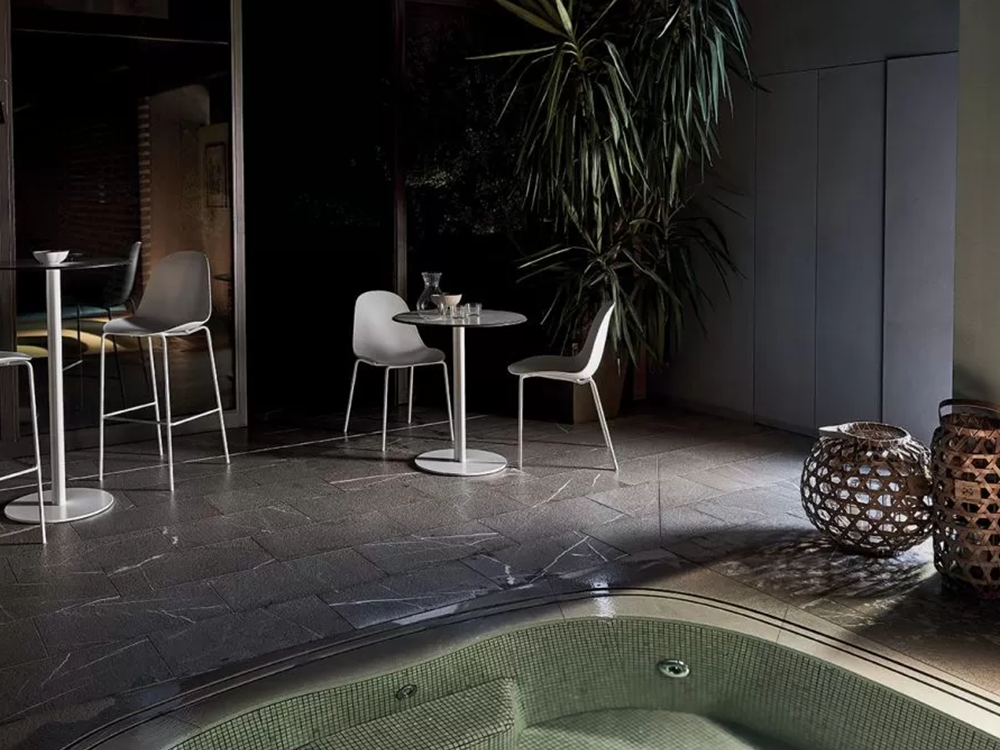 Style is and remains the key to any environment. To create a cosy garden living room , it is not enough to choose and place furniture. A conceptual idea must be developed: to create a harmonious environment in which all elements contribute to relaxation.
Choosing and placing furniture is just not enough for creating a cosy garden living room. A conceptual idea needs to be developed: to create a harmonious environment in which all elements contribute to relaxation and to welcoming guests at parties and dinners. In this sense, setting up a comfortable outdoor living room is the best way to transform your garden into a small oasis of peace.
Firstly, assess how much space is available
The measurement of the space is compulsory, accompanied by the evaluation of the lengths and widths of the sides, in which not only the lounge set with armchairs and coffee table can be inserted, but also other furnishings: for example, plants, lamps,  ottomansand fireplaces to accommodate the grill. Whether long to create a rectangular room, or square to recreate a small compact room, each configuration has its dignity.
If you onlyhave a terraceinstead of a garden, it is essential to plan on paper every eventuality: establishing in advance how to arrange the furniture and how much space to occupy.
Garden lounge: what style to choose
Style is and remains the key to any environment. And like all, the garden living room should reflect continuity with the interior décor. In a modern home where glass and steelpredominate, it will be appropriate to opt for furniture that is also modern in style: sanded and plasticisedrattan sofas and table , even better if with a glass top. Chaise longue, outdoor kitchenette and poufs will complete an outdoor living in sophisticated style. In a contemporary setting, the Rocket chair from the Bontempicollection is perfect. Stackable chair with integral frame made of polypropylene and recyclable glass fibre.
The more rustic furnishings , on the other hand, those made of woven wicker or wood, will suit traditional and rural environments , accompanied by tartan or Provençal fabric accessories with a shabby flavour.
Choosing a coffee table for the garden
Sharing occasions – dinners, snacks, aperitifs – are undoubtedly the best occasions to enjoy the charms of an outdoor living room. In this respect, in addition to comfortable and cosy seating, the presence of a table is indispensable. Also small, but necessary as a base to accommodate drinks and appetisers. The style must reflect the general idea of the furniture, but a table with great personality is always successful. Like Bontempi's Club table: a modern classic, with alacquered steel base for outdooruse, prepared for laminate and alucompact tops.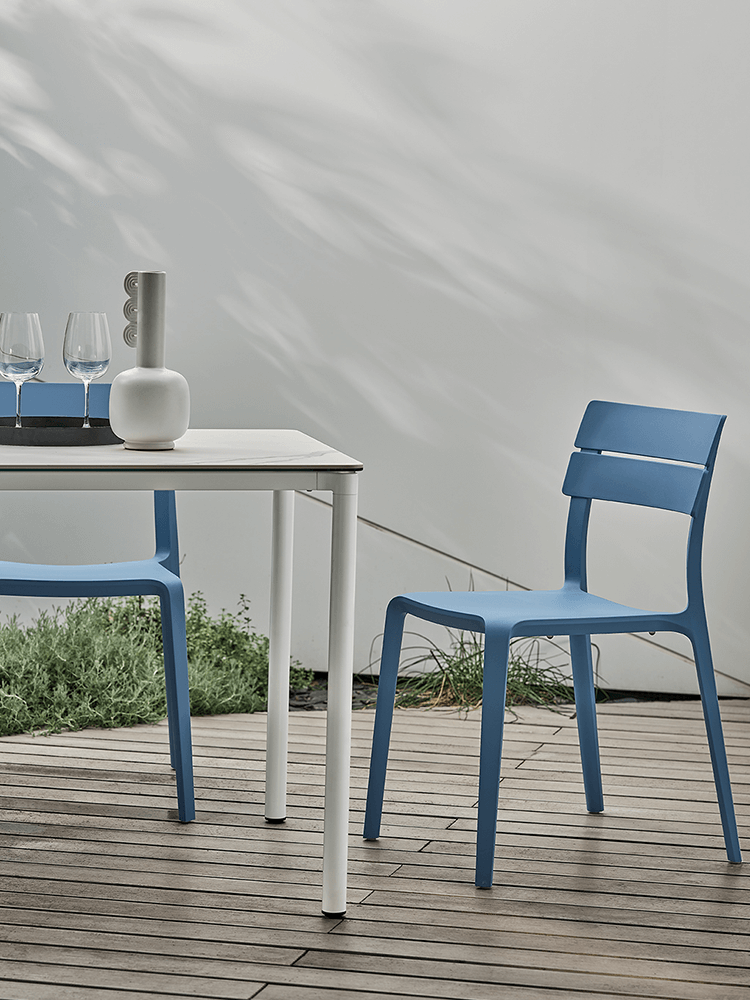 Garden furniture: the most suitable materials
Garden furniture is made of materials that are suitable for weather resistance. To be sure that your garden furniture will last, it is advisable to go for certified products. The most commonly used materials are:
– Polyrattan
Rattan and polyrattan (the non-natural solution) is an outdoor material characterised by the typical weave of natural (rattan) or synthetic (polyrattan) material. With the latest eco-friendly trends, rattan is making a comeback. Natural rattan is expensive and delicate, the synthetic solution is much more durable.
– Iron and Aluminium
Similar but very different, one must distinguish the type of metal. Wrought iron is a timeless classic with a strong aesthetic character and remarkable strength. The possible drawback is its excessive weight and its not-so-comfortable seating (in fact, it requires very comfortable cushions). Aluminium, on the other hand, is the material that is a hit in the garden furniture industry: pop solutions are proposed, perhaps combined with bright colours and plastic textures. This material makes garden furniture light, durable and weather-resistant. 
– Treated
Wood Wooden garden lounges are a must-have, undoubtedly beautiful. Whether teak, robinia, bamboo or other tropical woods, these types boast a strong aesthetic connotation. The downside of this furniture is maintenance: wood is a material that requires extreme care.
Garden lounge: even better at night
The charm of a garden living room often comes through the lighting. Choosing the right one therefore implies a careful evaluation of all possible opportunities: simple and usual solutions such as an existing outdoor lighting system, or small garden lamps scattered in corners, or even LEDs buried or embedded in the ceiling of the veranda.  Romantic floor lampsmade of materials suitable for outdoors can also be ideal for shabby-style living rooms. Finally, practical and atmospheric are lanterns and maxi candle holders, which provide a magical atmosphere.