The decor of your home,
the mirror of your style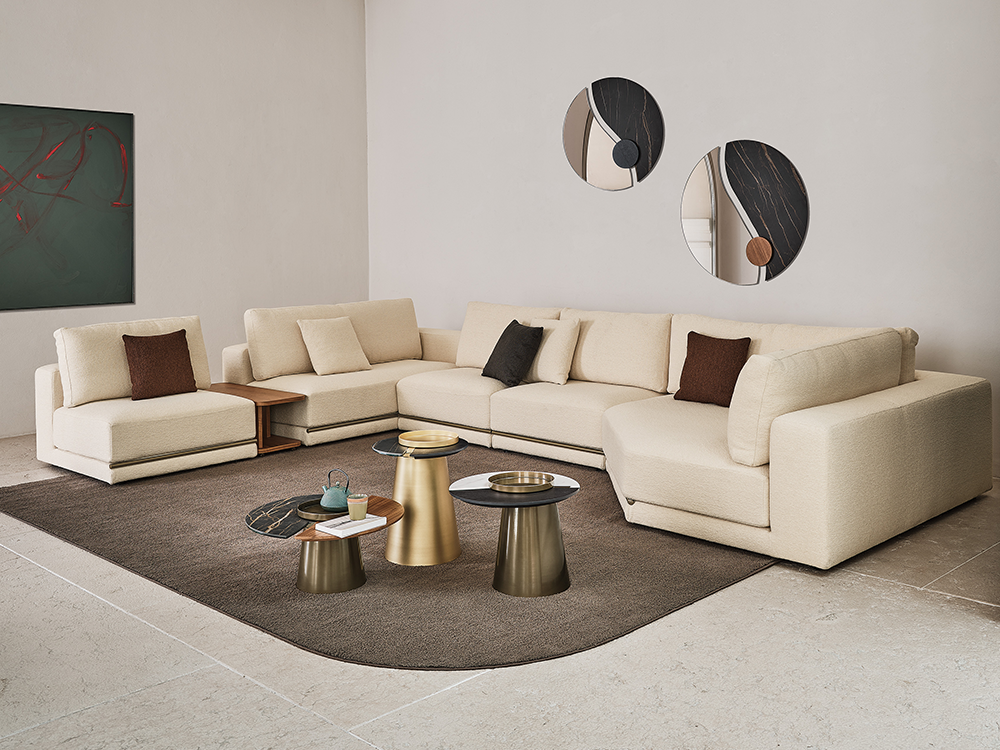 Home furnishing expresses in all its forms the personality, the style, the taste of its inhabitants. Let's find out together how best to enhance, building living spaces that express one's vision of beauty.
Home furnishing expresses in all its forms the personality, the style, the taste of its inhabitants. From those who approach it creatively, to those who seek rigour and structure, each design difference conveys different narratives and stories. How best to enhance them, building living spaces that express one's vision of beauty? Let's find out together.
Rigorous and structured style: art becomes scenic and abstract
Compact, square forms with an elegant, essential taste: those who wish to furnish their home drawing inspiration from the charm of the rigorous style need furnishing accessories capable of dialoguing with their surroundings, to create a coherent and harmonious atmosphere. For example, abstract or geometric works of art can be used or, to give a soft touch, an installation of metal sculptures with a modern design.
Thewinning combination: the Pitagora Sofa in the Bontempi Casa 2023 collection, is the perfect synthesis of rigour and softness, abundance and simplicity. Accompanied by a metal sculpture with curved lines such as Hnery Moore's "Reclining Figure" or "Wonder", created by artist Antoinette Rozan, will give the living room a sophisticated, structured yet cosy look.
Elegant retro style: embellish rooms with works in shades of cream
Past, present and future mingle when the elegant retro style is favoured. To make home furnishing work along these lines, it is necessary to strive for a constant balance between contemporary and demodé, modern and classic.
The winning combination: designed by two outstanding designers, Ellen Bernhardt and Paola Vella, the Bonnie sofa from the Bontempi Casa 2023 collection brings to life the elegance of 1970s design, capable of embellishing any environment thanks to numerous decorative details, consisting of stitching in the seat and two metal tubular fronts, which contribute to its refinement and customisation. A balance of lines that is also found in Paul Landauer's modern paintings, such as Helen's hope 2, a unique piece created in 2021 that goes perfectly with the cream tones of the Bontempi sofa.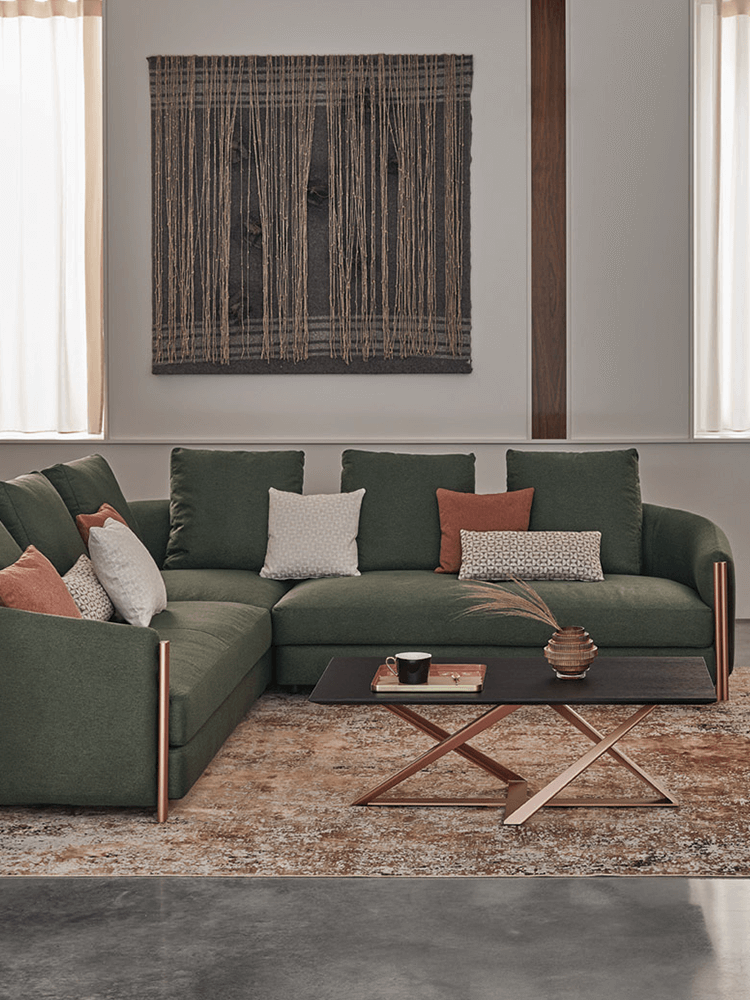 Modern and functional style: when essentiality becomes furnishing magic
Less rigid than minimalism and characterised by refined and essential forms, the modern style gives brightness, visual breadth and airiness to home spaces. For those who approach home furnishing with a modern style in mind, whether due to personal taste or to requirements such as small square metres, the key word is functionality, as according to the modern style it is essential that every piece of furniture is more than simply elegant and sophisticated.
Therefore, the idea of furnishing rooms in the home with imposing furniture should be abandoned. Instead, preference should be given to furnishing complements that improve the quality of life of those who live there, thanks to a practical, essential, yet distinctly elegant nature.
The winning combination: the Dakota sofa, from the Bontempi Casa 2023 collection, optimises the space and style of the room by combining the modularity of its elements with dedicated accessories, thus becoming to all intents and purposes a composition of refined taste that is practical at the same time. To fully capture its spirit and embrace modern style, it can be combined with an equally functional and elegant design object, such as the Magico Mirror by Fornasettiwhich features a rounded brass frame, or its characteristic Fish Vase, a handcrafted collector's piece that combines uniqueness and efficiency.
Classic style: timeless beauty takes the stage
For those who have always desired to live in a home imbued with timeless elegance and refinement, the classic style represents not only the most sensible choice of furniture, but also the most innate.
Those who identify with this furnishing style prefer designer objects, works of art and furniture that exude sophistication, timeless beauty and precious charm. This is why fine materials such as marble, glass, crystal, but also solid wood dominate in the home. Key element for building a home with classic charm is also investing in iconic pieces of art that, together with the furniture choices, can raise the status of the home.
Thewinning combination: characterised by soft, clean lines, the Antares sofa from the Bontempi Casa 2023 collection features fine leather upholstery, available in a wide range of colours and textures.
Here comfort is absolute, thanks to the high-density polyurethane foam padding, while the solid wood structure ensures robustness and durability.
The elegant metal feet, available in different finishes, give the sofa a modern touch without compromising its classic style. To accentuate this, simply choose a triptych of precious paintings for the walls , such as those by Domenico Zora or a painting portrayed by Evita Andújaraccompanied by a thick brass frame, or a work of inestimable value, the black square by Kazimir Malevic.