How to furnish
a bar rooftop

Panoramic views, striking skylines and exclusive atmospheres: this is what drives people to favour rooftop venues. But this is not enough to make the customer experience truly unique. All furnishing elements chosen to make the stay more comfortableare of paramount importance.
Panoramic views, striking skylines and exclusive atmospheres: these are the elements that make people favour venues with a rooftop. Those who choose to enjoy aperitifs, cocktails, lunches or dinners at these heights are surely in search of wonder. The idea of exploiting rooftops is not new, it comes from the 1970s, from New York skyscrapers, but is still popular with customers of all age groups.
Contract Furnishing of a Rooftop
Traditionally, Italian furniture production has been aimed at the retail channel: furniture designed and manufactured to be distributed and sold by catalogue. In the area of Contract Furnishing, however, there is a change of focus: each order is a huge and complex container of data, information, timelines and deadlines. So much so that the first task of the company supplying a contract furniture is the optimal management of the order. This is because the value of Contract is, even before the product, the turnkey service. The ratio of design to product is 1 to 1 (instead of 1 to thousands as in retail). The manager of a rooftop venue will thereforerequire a full service and customised style (developed specifically for his venue).
Tables and chairs: which ones to choose and why
Even the most beautiful scenery is not enough to make the customer experience truly unique. All the furniture elements chosen to make the stay more comfortableare of fundamental importance, starting with the seating: armchairs, chairs, tables, poufs. Among these, some models from the Bontempi collectionstand out for their originality and design, such as:
– Pouf Bench. Bench with lacquered steel frame, upholstered and covered in Ecological Leather, Premium Ecological Leather, Bouquet Fabric, Mambo Fabric, Lulù Fabric, Nordic Fabric, Pure Virgin Wool, Supreme Velvet, Kvadrat Field Fabric, Kvadrat Tail Fabric and Premium Leather.
– Armchair Kodi. Harmony, discretion, softness, cosiness are useful words to describe this armchair, designed on a gentle line that seems uninterrupted. Super enveloping, like a hug. It is not a simple armchair, but a microcosm of comfort that welcomes and protects after a long, hard day.
– Karol coffee table. Coffee table with lacquered steel frame and decorative details. Crystal and wood veneer top.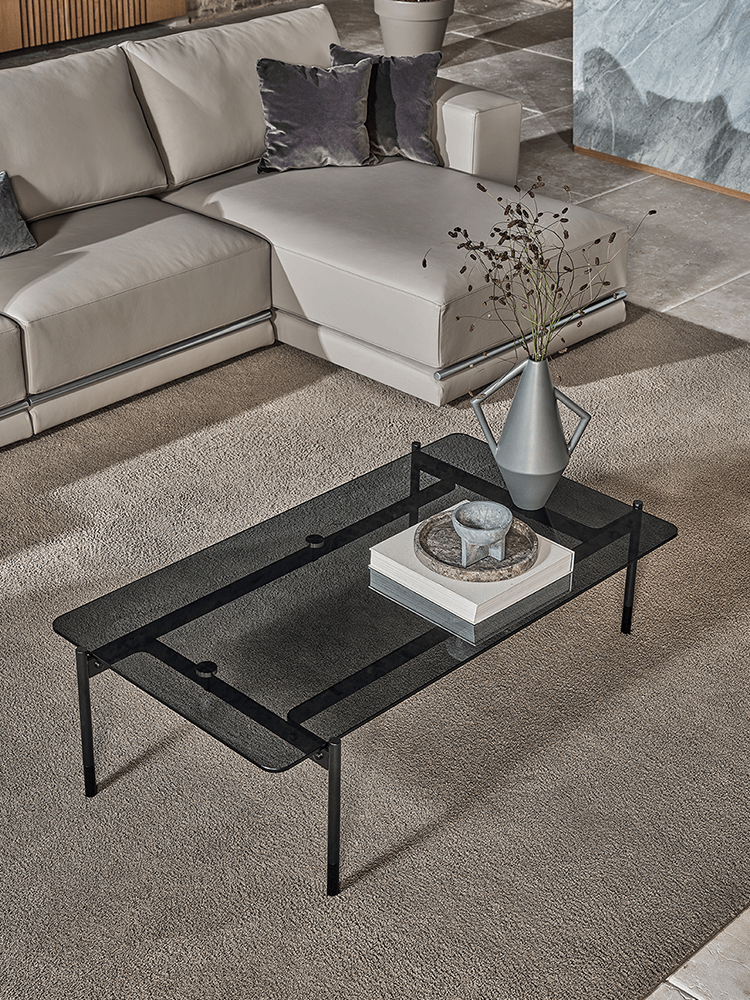 Other furnishing elements for the rooftop of a venue
– Lights and Luminous Vases
Rooftop bars come alive especially at night, so it becomes interesting to play with lamps, coloured lanterns, rows of bulbs, luminous vases and LED furniture. Which contribute to creating the right atmosphere.
– Potted Plants and Trees 
The beauty of climbing on rooftops is to escape the asphalt and concrete for a few hours. So, space for plants and flowers: the desire for nature emerges especially in summer.
– Professional parasols 
Roofs and terraces are exposed to the sun all day long. Without shaded areas, they would be unusable during daylight hours. Professional wooden or aluminium umbrellas are a must.
– Swimming pool
Pools and jacuzzis are often found on rooftops: they give a glamorous touch, especially at night. When the pools are illuminated, the setting becomes even more exclusive.
– Cushions 
Small or giant, monochrome or patterned. Cushions reinforce the idea of relaxation and free from tedious formalism. It is important that they are made of durable material.
– Freestanding Heaters
If you do not want to forego opening your terrace in the colder months, you should equip yourself with freestanding heaters: the winter panorama is in many cases even more scenic than the summer one. It would be a shame not to take advantage of it.
Rooftop: the importance of resistant materials
On the highest floor of a building, gusts of wind and downpourscan be more intense. So it is better to focus only on solid, all-weather furniture.
– Aluminium furniture. Lightweight, rust and salt-resistant material, therefore suitable for outdoor use in maritime areas. Aluminium furniture tends to heat up in the sun, which is why it is often combined with technical fabrics such as textilene, which does not fade and resists moisture.
– Natural or synthetic rattan furniture. Rattan is a flexible wood that is woven to make seats and tables with a vintage yet timeless charm. It is not a weather-resistant wood, so it is more suitable for protected outdoor spaces: patios, verandas and porches. Synthetic rattan (or Polyrattan), on the other hand, offers high UV and weather resistance.
– Iron or steel furniture. They suit a classic and elegant style. Essential and minimalist, they tend to take up little space. Iron and steel are less resistant to oxidation than aluminium.
– Wooden furniture. The most commonly used woods are teak, eucalyptus and acacia, which are characterised by their sturdiness and resistance to moisture, although they tend to grey over the years. Therefore, maintenance must be continuous and thorough.