Furnishing a
bookshelf: tips and inspirations

bookshelf design is a great way to make the most of the available space in any room. It is an important, scenic and decorative piece of furniture. It is volumetrically imposing, and is usually characterised by a series of shelves held together by a single structure
A Bookshelf is an important, scenic and decorative piece of furniture. It is volumetrically imposing, and is usually characterised by a series of shelves held together by a single structure. In terms of styling, it is like a set of harmonious compositions arranged on different, overlapping planes . To enhance a bookshelf, compositions
must interact between one shelf and another.
How to furnish a bookshelf: four valuable rules
Design is fundamental and should follow these basic principles:
Composition. Regardless of what is placed on the shelves, the key is to make sure that the objects are connected in some way: by colour, style, theme.

Stratification. It makes no sense to create a library to only insert books vertically, in a one-dimensional fashion (i.e. only on one row). If the thickness of the bookshelf permits, it is better to place objects in a few rows in front of each other: the tallest in the back, the smallest in front. Creating movement and dynamism is a winning feature.

Dimensions and scale. No matter whether it is a simple shelf, a plasterboard niche or a giant bookshelf, it is important to find the right balance. That is, varying the shapes, sizes and heights of all the items on display, while keeping them in relation to each other.

Contrast. When things are too similar, they can become flat. Creating some contrast through colour, material or shape would be better. For example, if there is a stack of books or square or rectangular boxes, add a rounded object. Or if there is a collection of leather-bound books, place a decorative object made of glass or metal (mixing soft with hard materials) next to it.
Why choose a designer bookshelf
The bookshelf is perhaps the only piece of furniture in the home that can completely transform it (depending on the model chosen), regardless of the room in which it is placed. Furthermore, bookshelf design is a great way to make the most of the available space in any room. It helps maximise efficiency by creating an extra storage area without taking up valuable floor space.
Among the many models available on the market, the bookshelf that stands out for its originality is Charlotte from the Bontempi 2023 collection. A modular bookshelf, available with wall and ceiling mounting, prepared for receiving up to 4/8/12/16/20 optional shelves and/or containers. Frame, crossbars and decorative details in lacquered steel.
Furnishing a living room bookshelf: variety is the secret
What to store on a bookshelf placed in the living room?

Books are obviously the number one element. Old, new, large, small, bound, paperback, no matter what they look like. Some should be arranged vertically and others horizontally, to create more visual interest. If the covers are not well maintained, they can also be placed upside down.

Works of art shelves are ideal places to display small pieces of art, such as paintings or prints. Depending on the size, they can be placed in front of the books, on top, or against the back of the shelf.

Objects certain objects can easily be superimposed on books to create depth and add a personal touch. It is best to avoid using too many of them: especially if small, many objects tend to look messy when grouped together.

Boxes decorative boxes are the ideal accessory for those who wish to fill empty spaces. They are available in a wide variety of colours and materials, so it is easy to indulge in the choice.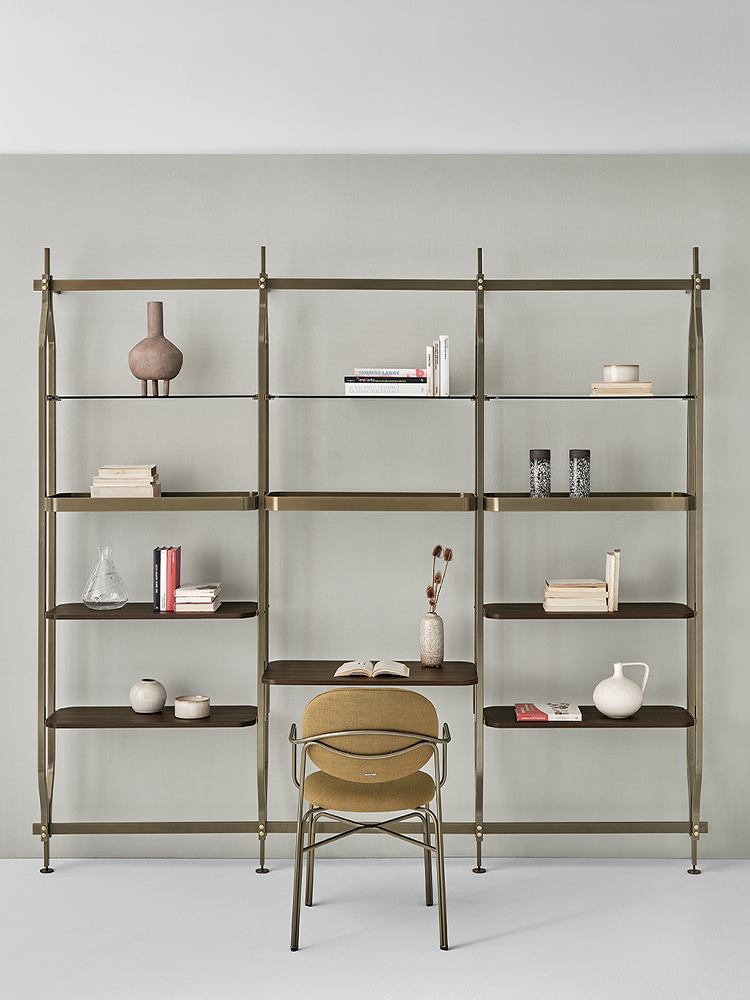 Tips for a modern bookshelf
A modern bookshelf has a strongly evocative character, capable of shaping space with different modules and compositions. It can be white, wooden or coloured, depending on the style chosen.

modern design simple, basic lines, lacquered colours often mixed with natural wood, minimalist shapes. They are the most popular bookshelves precisely because of their versatility.

industrial design metal and wood, contemporary lines that wink at steampunk. Perfect for lofts, studios, offices furnished in a young and dynamic way.

scandinavian design again, we speak of a minimalist style. The wood is stained in white (never lacquered) or in a light natural colour. Simple shelves that hardly stand out in any kind of environment.
Lighting also makes a difference
In very large and tall bookshelves ,a lighting system is often required . It can be suggestive: with small lights, lanterns, flameless fake candles. Or it can include the use of under-shelf LEDs. LED lights are to be preferred over incandescent bulbs: they are more reliable, suitable for use in confined spaces and emit very little heat.