Liberty Style
Furnishing: the ultimate guide

The Liberty style, the Italian declination of French Art Nouveau that was so popular in the late 19th and early 20th century, has come down to us to transform domestic interiors with its lively and nostalgic charm.
The Liberty style, the Italian declination of French Art Nouveau that was so popular in the late 19th and early 20th century, has come down to us to transform domestic interiors with its lively and nostalgic charm. Contemporary solutions for furnishing Liberty homes include opulent velvet sofas and floral prints, veined marble coffee tables with brass details, fringes and lots of greenery.
Liberty furniture: the must-haves
• period objects. Nothing is more representative of the Liberty style than an original object of the period. An antique item can never be equated with a simple reproduction.
• prints. The Liberty style was also applied in the world of advertising and packaging: a house furnished according to the dictates of Liberty cannot fail to feature prints and posters, true works of art that deserve to be displayed in important frames.
• chandeliers. A very characteristic element of the Liberty style is the glass chandeliers with bronze bases. This combination of coloured and frosted glass and metal lends a touch of class to any room.
• floor. To authentically recreate the Liberty period, it is best to opt for a coloured cement floor tiles or an elegant herringbone parquet: very light wood parquet, tending to white, which has the advantage of giving brightness and depth to the room.
• wallpaper. Favouring eccentric geometric motifs, very popular at the time. Or a vertically striped wallpaper in two different colours, e.g. light grey and olive green.
Liberty furniture: materials and colours to choose from
In terms of materials, wood, marble, glass and wrought iron cannot be missing in an Liberty house. Mirrors with floral themed frames, Liberty paintings, gold lacquered clocks and table lamps, chandeliers and ceiling lights with glass mosaics – these are the furniture elements that characterise the vintage style of the turn of the last century. The predominant material is definitely wood, especially in dark shades such as mahogany, beech or cherry, but also in all its other declinations. Richly decorated wrought iron is not to be missed, and marble and stone (used for mosaics) also play an important role.
As for colours, there is no doubt: white and gold are the dominant colours, in all their shades and declinations. However, it is important to dose them carefully so as not to create a tacky effect.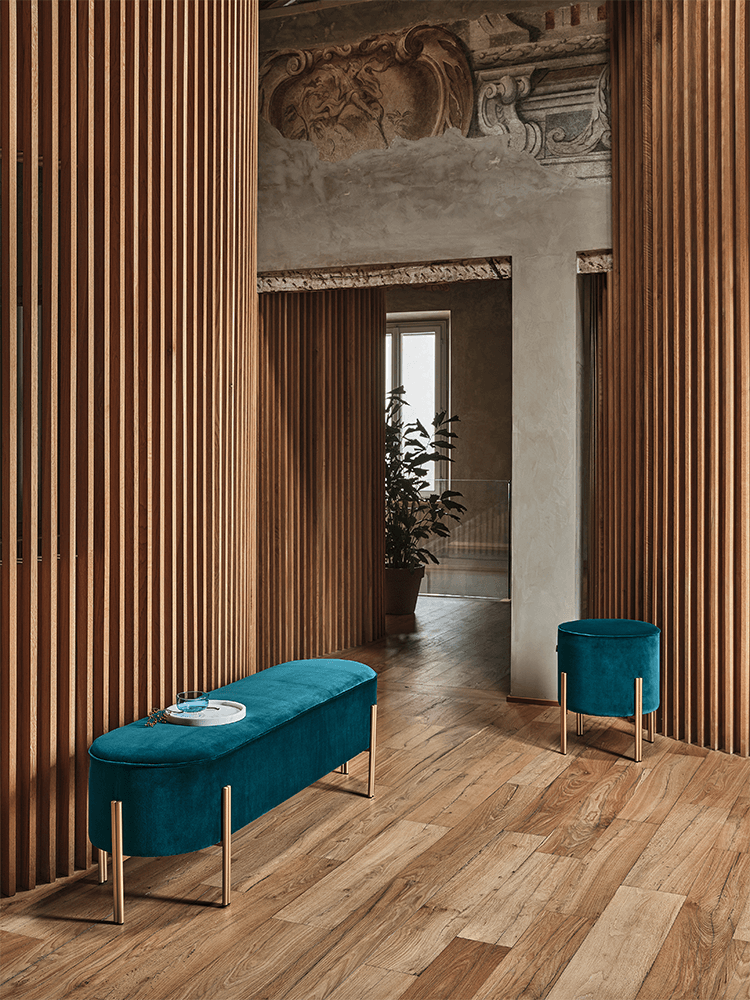 Liberty style: each room has a different connotation
• living room. The focus is on the sofa, with its soft, rounded shapes, gold trim and quilted upholstery. For upholstery, you can choose between sofa covers with floral prints, or white and then embellish it with gold cushions. Bookcases and sideboards are welcome, in wood of course. Inevitably, a coffee table, simple and curved, with inlays and gold details.
• bedroom. Wallpaper on the walls and bed in wrought iron or with a wooden headboard and inlays. Pay attention to the combination with the rest of the furniture, such as bedside tables, mirror frame, chest of drawers and wardrobe. A beautiful crystal chandelier will add prestige to the room, also enhanced by the right choice of linen.
• kitchen. There can be no lack of sideboards and pantries in cherry, mahogany or beech wood. Within which to store porcelain decorated with floral motifs or elements of nature. Liberty tiles and grit floors perfectly complement the kitchen décor.
• bathroom. The floor should be covered with polished, hexagonal tiles with floral decorations, both on the floor and along the walls. If space permits, it is better to prefer two washbasins side by side, with steel, brass, copper or gold-effect fittings, and bathroom furniture included. The bathtub is a key element: in the perfect Liberty décor, the bathtub is freestanding, i.e. completely free-standing, to be placed in the middle of the room, with inlaid and carved feet.
When Liberty meets modern
Classicism, luxury and refinement never go out of fashion , which is why the Liberty style tells a furnishing trend that is still alive, current and much desired. Today, the Liberty style winks at modernity, accepts without hesitation the mix&match of styles. The Liberty inspiration, for example, matches perfectly with the colours and lines of the Rocket chairs from the Bontempi 2023 collection. Comfortable and high-performance, with clean lines but a fresh, contemporary design, colourful, durable, light and stackable: Rocket is the latest generation polypropylene chair, suitable for all environments.