How to furnish
a mountain hut
Mountain houses are often second homes, where families like to spend their holidays in an atmosphere of maximum relaxation: for this reason it is important to create a warm and comfortable environment in which to enjoy the natural beauty of summer and winter
Mountain houses are often second homes, where families like to spend their holidays in an atmosphere of maximum relaxation. For this reason, it is important to create a warm and comfortable environmentin which to enjoy the natural beauty of summer and winter. Choosing the interior style of a mountain house is more difficult than it sounds: it is not easy to furnish a mountain hut without falling into banality.
Inspirations and suggestions for furnishing a mountain hut
The classic mistake is to plainly associate the style of a mountain house with rustic. The rustic style is only one of the possibilities, but by no means an obligatory choice. A modern or contemporary style can be favoured, while retaining that warmth typical of chalets.
The first objective must be not to distort the space that one is about to furnish: mountain houses are often built of wood and set in a particularly evocative natural and landscape context . In a log cabin, one can opt for a contemporary rustic style with a light colourpalette, as opposed to the traditional rustic style that favours dark tones. For wallcladding, natural materials such as wood and stoneshould be used.
And to increase the intimacy of the atmosphere, it is appropriate to play with lighting and textiles: creating combinations that express the personalities of those who live in the home most frequently.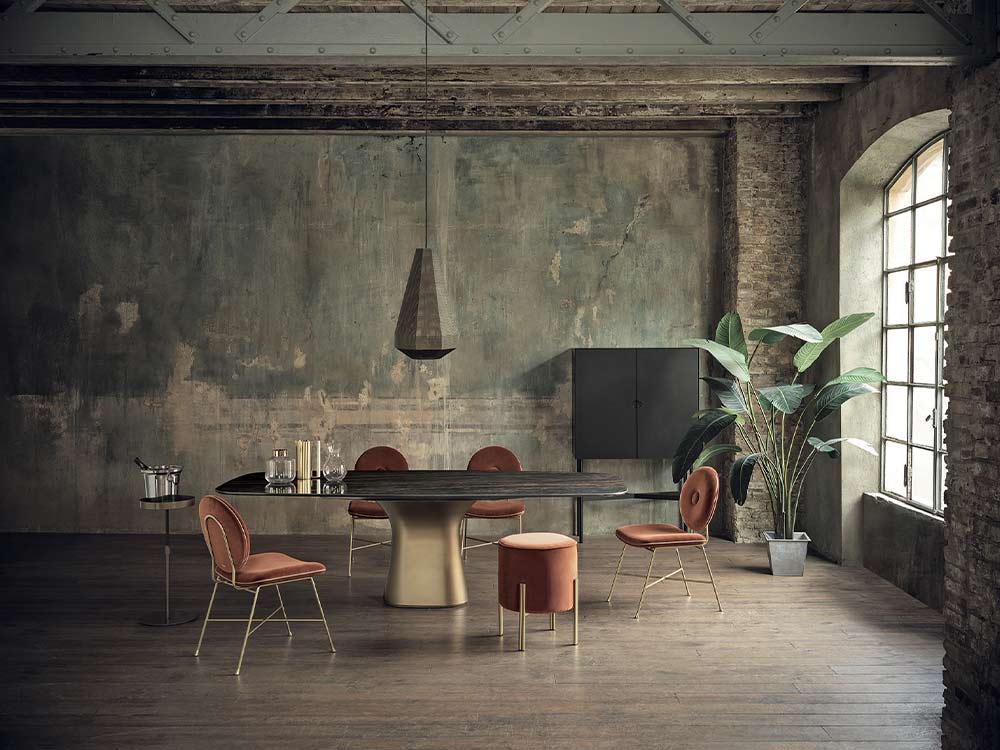 Mountain chalet: choosing furniture for each room
Furnishing the living area.A mountain house should not be without a fireplace – perhaps clad in stone – or alternatively a wood-burning stove. Exposed beams and niches carved into the wall are refined solutions, perfect for the living area. In front of the fireplace or stove set up a large sofato be placed next to one or two armchairs
Kitchen furniture. The classic kitchen of a mountain house expresses a combination of wood and stone. In this space of the home, accessories are very important to give harmony to the room. Textiles should be chosen with particular care, favouring neutral shades and playing with patterns.
Bedroom furniture. Better to go for an essential style: the aim will be to make the sleeping area as functional as possible. Opt for a large bed and a wardrobe or walk-in wardrobe in unfinished wood.
Bathroom furniture. In the bathroom of a chalet, a pleasant effect is the combination of traditional and modern elements: rough wood and stone, combined with a modern shower cubicle. The idea of making a natural stone sinkis suggestive.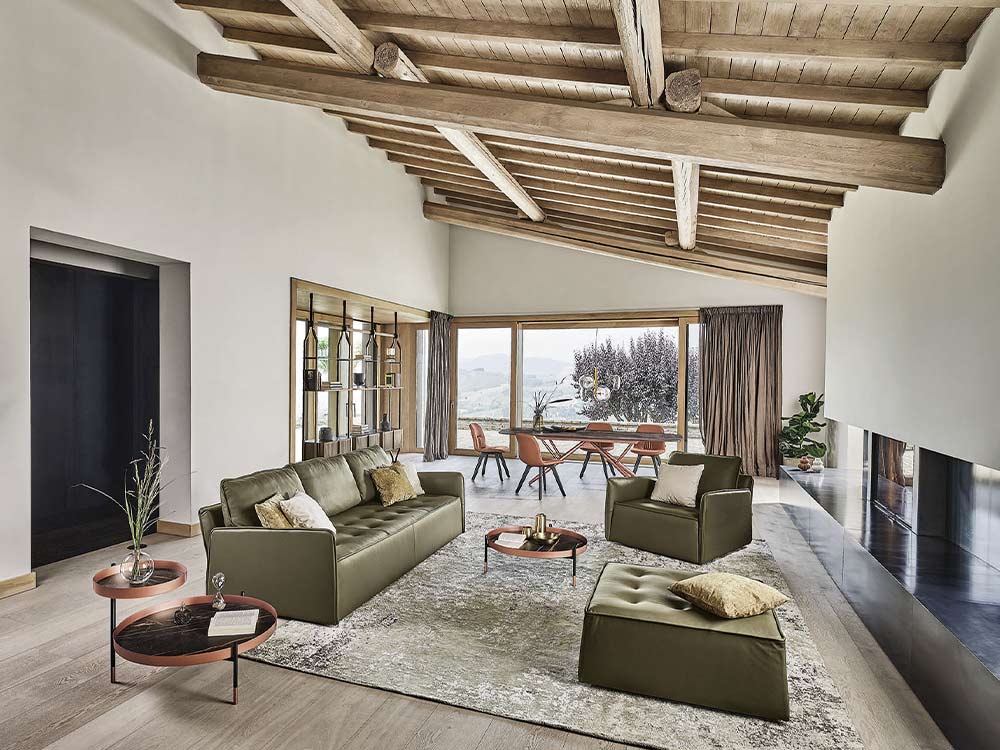 Secrets for furnishing a small chalet
It is important to choose warm colours for furniture and furnishings, as dark shades have the effect of shrinking the room, optically. For example, favour tones of light brown, cream-coloured, taupe, and warming red in the tradition of mountain style. Obviously, order plays a key role in the organisation of small rooms: so, away with unnecessary objects and yes to coordinated elements that make everything more pleasing to the eye. Make room for imagination and creativity, but never overdo the quantity: a small house should not be overloaded.
You have to know how to choose objects that blend into the environment. Combine soft lighting with cushions and quilts, featuring textiles in warm colours, or pots with selected plants, which will give a natural touch. Green and wood were born to be together, as constantly emphasised by the Scandinavian style.
How to choose furniture for a chalet
They range from country chic to shabby chicbut a Tyrolean style reinterpreted in a contemporary key is also an excellent idea Chalet furniture requires parquet flooring, then it needs carpets, both long and short pile, which will be placed in the living area and in the bedroom. Floor buffers are also very important. They prevent the wind from entering the house and give a nice retro touch. As for the walls, these should also be clad in wood, perhaps in a lighter colour than the floor. Sofa and fireplace are the two great protagonists in the furnishing of a chalet. A Tyrolean-style sofain wood or warm colours is the best choice. Also pay attention to details: always provide warm wool blankets and  cotton or linen pillows.