How to choose the ideal
TV cabinet for your home

Space, style, functionality and quality. These are the main factors to pay attention to when choosing furnishings and design in line with one's needs. There is also a special focus on the selection of materials, which determines the character with which the home is presented.
Space, style, functionality and quality. These are the main factors to pay attention to when choosing furniture and design in line with one's needs. There is also a special focus on the selection of materials, which determines the character – refined, modern, minimal, country –with which the home is presented.
Four key words, one project: the one you use to give shape to your furnishing ideas
Space: the first step in choosing a TV cabinet is to measure the dimensions not only of the TV set, but also of the wall to be furnished. It is important to ensure that the furniture is not too large or too small in relation to the available space. If, for example, space in the room is limited, it would be better to choose a more compact piece of furniture to optimise the area. Last but not least, it is essential to envisage the height of the TV cabinet to ensure comfortable viewing of the screen.
Style: Considering the general style of your home is necessary in order to buy a piece of furniture in harmony with your current furnishing choices. If your home has a modern décor, you could opt for a TV cabinet with a minimalist design, featuring clean lines and geometric shapes. If, on the other hand, the house is characterised by a more classic or rustic style, one could choose a piece of furniture with curved details.
Also not to be underestimated is personal taste, which influences the choice of purchase: for those who are passionate about technology for example, the best choice may turn out to be a cabinet with integrated functionality, such as USB ports or HDMI connections.
Functionality: Once space and style have been reconciled, attention must be paid to the practical and functional side of the TV cabinet. Do you live in an attic? In this case, the optimal solution is a low TV cabinet that visually expands the boundaries of the house. Would you like to have a TV in your bedroom instead? If a wall unit seems a more suitable choice for the living area, you can opt for a concealed TV cabinet that disappears behind a sliding, hinged or motorised panel.
Quality: A good piece of furniture is distinguished by the choice of materials and the workmanship involved, which, if it is executed, transforms an object into a true architectural element. Choosing a high-quality TV cabinet can therefore be a strategic choice to elevate the style – and timeless beauty – of your home.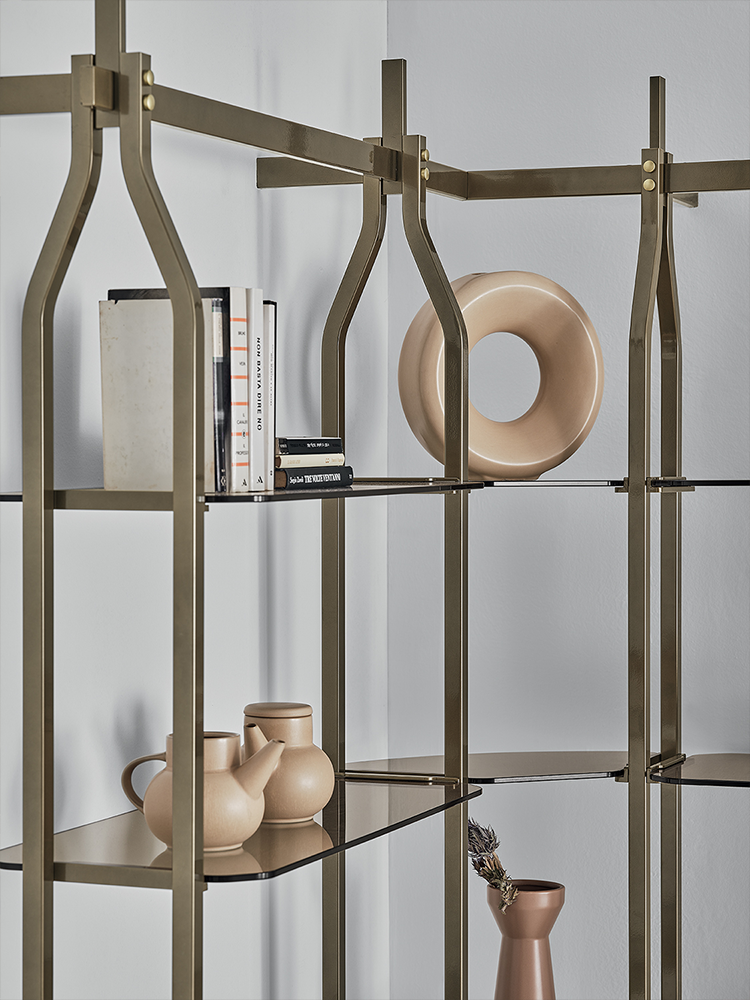 TV cabinet with wooden panel: a sophisticated choice for modern furniture
Giving the rooms of your home a touch of elegance and timeless style is easy with wood, which, thanks to its natural strength and robustness, guarantees maximum durability for your TV cabinet. Different ranges of colours and finishes are available on the market, but for a sophisticated result Bontempi recommends charcoal oak veneer, which combined with natural silver gives your room an avant-garde look. Like the bookcase Charlotte in the Living 2023 collection, which combines wood, transparent smoked glass, rose gold and silver and offers the possibility of installing a television screen in the central element and strategically concealing cables beyond the bookcase structure. Future and present mix in this piece of furniture, created by designer Shannon Sadler and ideal for any setting, from the living room to the home office.
Home Living 2023: what trends to expect in the near future for TV cabinets?
Minimalist design: there is a growing demand for TV cabinets with a sleek, modern and minimalist design, devoid of excessive detail or decoration. Few furniture and accessories, for essential, uncluttered rooms.
Multifunctional furniture: hold books, magazines, decorative objects or other multimedia components. This is one of the most important TV cabinets trends of 2023. A trend that stems from the need to make the most of the living space available, using multifunctional furniture and accessories to create flexible, adaptable rooms.
Integrated technology: in the near future, it will become increasingly common for TV cabinets to integrate advanced technologies, such as wireless connection, integrated lighting, voice controls or other smart accessories.
Sustainable materials: Interest in TV cabinets made of sustainable and recyclable materials will continue to increase in 2023. More and more people will be oriented towards sustainable lifestyles with a reduced environmental impact, which will lead to an increased focus on environmentally friendly materials, such as wood.
Customisation: requesting TV cabinets tailored to one's taste and specific needs in terms of design and functionality is a rapidly growing trend.