The fascination of
bookcases: which to choose and why

Bookcases are versatile and adaptable furniture. They give character to a simple room, transforming it into a new design environment.
Bookcases are versatile and adaptable furniture. They give character to a simple room, transforming it into a new design environment. They can be used as a partition between two rooms in the house, to give importance to a room that would be empty, or to give continuity to rooms.
How to furnish with bookshelves
Bookshelves that extend mainly vertically are perfect in homes with typical high ceilings of the past. In a small house, it is better to prefer small bookcases, placed in different places in the house, e.g. to fill space in niches and recesses. Another solution in vogue is the bridge bookcase, above the desk or a bed: in this case it is essential to choose materials and colours that give a sense of lightness, so as not to make the room even smaller. A particular proposal, perfect for reading lovers, is to create a bookcase framing a window: perhaps even placing a bench with cushions between the two supporting columns to create a perfect place to relax with a good book and plenty of natural light.
Classic or modern: a question of style
A classic or rustic style of furniture would certainly suit a period bookcase: with its solid wood shoulders. Those who focus on design will find countless models to add a touch of modernity to their living room or bedroom: an asymmetrical shelf, for example, has non-homogeneous compartments that cut through monotony. Bearing also this in mind, some more original models allow books to be arranged on slightly inclined shelves, creating a striking unstructured effect. The Scandinavian-style white bookcase and the industrial bookcase, which combine wooden elements and a metal frame, are other popular solutions because they fit virtually any style already present in the home.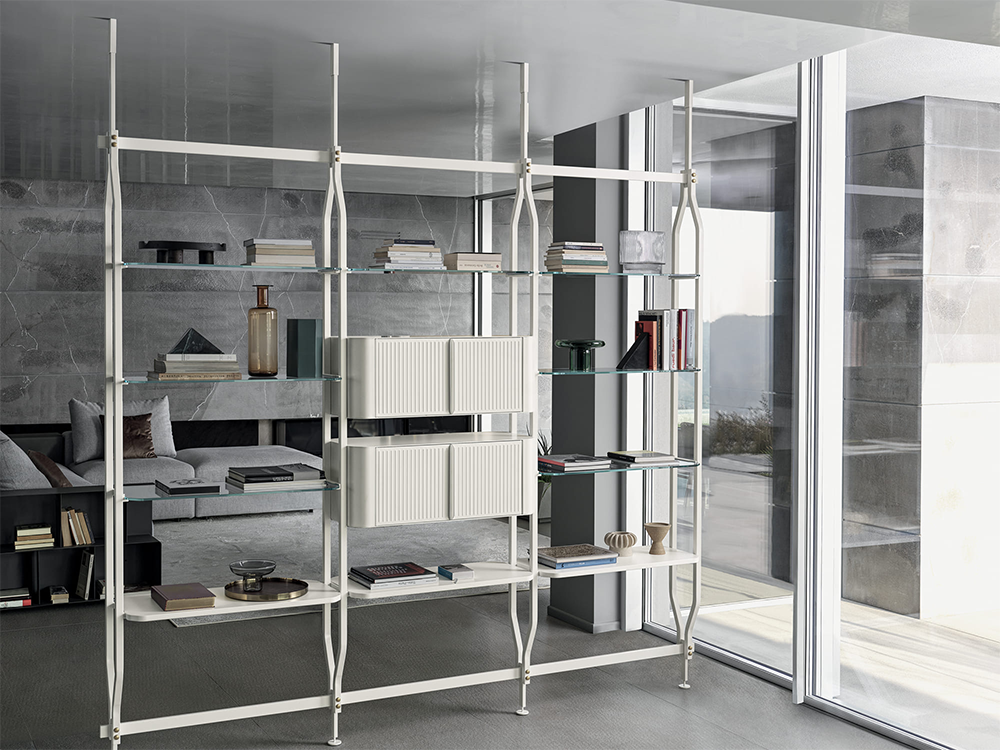 A guide to different library models
The classic bookcase consists of a given number of shelves and is placed directly on the floor.
The corner bookcase and the corner shelf, on the other hand, form a right angle and, as they easily fit into unused corners of any room, are always a good idea.
The showcase, finally, is a piece of furniture that rests on the floor, usually consisting of drawers and a large glass part, designed to display objects: not only books, but different furnishing accessories.
The modular bookcase consists of several modules, which can also have different colours and shapes: the modules are assembled as desired, an ideal solution because it is highly customisable.
Which materials to choose for the bookcase
Wood, laminate, iron: each type of material has its own specific characteristics and adapts to different rooms in the home. The combination of different materials is also interesting: some models, for example, have iron uprights and wooden shelves. This said, a natural wood bookcase is undoubtedly the best choice from an aesthetic point of view and in terms of sturdiness: a 3 cm thick wooden shelf has a much higher load-bearing capacity than a laminate shelf.
Wall bookcase: inspiration and suggestions
A wall of books. Even in the digital age, the wall-mounted bookcase never loses its appeal. Furniture that has a great impact on the style of a room, but also on the life of a home. The wall-mounted bookcase is a very successful model in design houses: it is fixed to the wall and has no feet contacting the floor. This type of solution is characterised by a particularly elegant and light style , but it can only support a certain weight: do not overdo it, otherwise the fasteners may fail. If the bookcase is made to measure, it allows for an area covered to the centimetre and becomes an indispensable piece of furniture.