How to furnish the
hall of your house

The furnishing of the home entrance must follow two basic guidelines: cosiness and practicality. One can try to personalise it with simple decorations that can become an opportunity to give a touch of character to the home right from the entrance.
Furnishing an entrance hall, whether blind or open to the living room, is not easy. Yet this is a very common occurrence arising from the floor plan of an existing flat, on which no action can be taken in terms of removing load-bearing walls. The furnishing of the home entrance must follow two basic guidelines: cosiness and practicality. In addition, it is possible to customize it with simple decorations that can become an opportunity to give a touch of character to the home right from the entrance.
Entrance hall furnishing: seven tips for avoiding mistakes
– Choose light colours. To brighten up the space, you'll want light shades such as neutrals, white, ivory and light grey. These shades should be chosen in relation to the mood of the whole house, so a pastel pink or sage green can be ventured if the surroundings are inspired by these colours.
– Using mirrors to expand space. Mirrors optically enlarge the room, make it less stuffy, but also more cosy and practical. You can opt for a full-wall mirror or for a series of mirrors to be arranged neatly on the walls.
– Laying a floor that blends evenly with the rest of the house. Flooring is very important for decorating the entrance hall. It is better if it is evenly arranged: a running surface, parquet laid with horizontal strips, or herringbone is perfect. Alternatively, choose tiles that are decorated and lively, or match the colour of the walls.
– Use small furnishing accessories. Still on the subject of optical effect, it is advisable to use mini furnishing accessories: a small stool, or a tall but slim one, similarly slim hangers, very small pictures on the walls.
– Evaluating the inclusion of upholstery to create optical effects. It is better to favour wallpapers with natural motifs, perhaps tropical, with geometric designs, with photo-realistic natural landscapes or with metropolitan horizons. There are also models with a 3D effect, textures that are very pleasant to the touch and look wonderful when illuminated.
– Placing LED strips at strategic points. LED strips, which are easy to find and generally cheap, help to circumvent the contours and shape of the entrance when it is particularly narrow. Just one is enough to give a stunning effect to the space, especially when night falls and the other lights are off.
– Insert an iconic design object. When it is spacious enough, the entrance hall can accommodate a true design piece: a particularly refined lamp, an armchair, a chair or a stool with a strong aesthetic impact. For example, the Lady armchair from the Bontempi 2023 collection. Elegant and discreet in its volumes, Lady is the perfect element to embellish all environments. The design is expressed with a simple wooden structure that contrasts harmoniously with the upholstered parts. Functional yet appealing details are the lumbar cushion and the armrests withthe absolutely decorative metal end piece, which echoes the feet.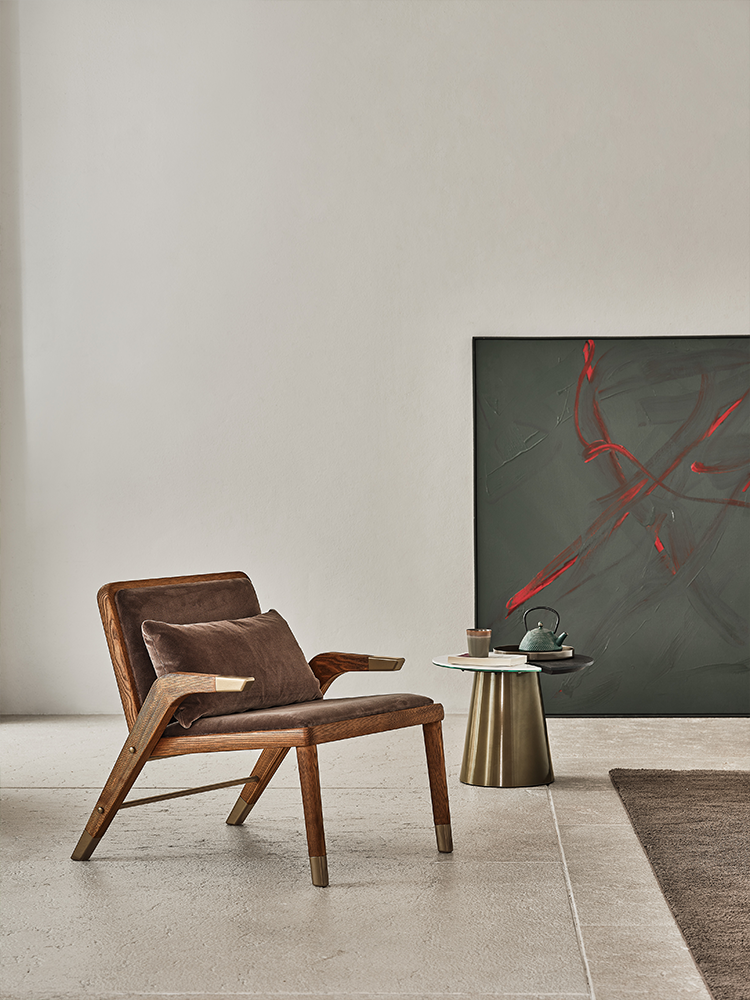 Classic or modern: which style to choose for the entrance hall
Classic style dictates aesthetics sometimes at the expense of functionality or technology. Wood is the predominant material because it can be found in furniture and especially in finishes. Essences such as beech, cherry, mahogany, oakarepreferred. Carved and decorated wood panelling is the distinguishing element of the style.
Other widely usedmaterials are marble, glass and crystal, respectively for floors, decorative objects and lighting. Fine carpets are often seen in the classical style. One can opt for rectangular runners, square carpets to further define the space or, if you want to dare a little bit, round carpets to ideally separate the entrance and living area.
The modern, or minimal, style involves understated elegance. Thus, anyone who arrives at your house for the first time will be greeted by straight lines and a wonderful feeling of order, cleanliness and brightness. But furnishing an entrance hall in modern style above all means practicality: each element will not only have an aesthetic value but also a very obvious practical function.
What furniture to choose to furnish the entrance hall
– Wardrobe. To optimise space in an entrance hall, it is normal to equip the area with cupboards with a storage function for coats, shoes, hats, scarves, bags.
– Console. There are many models, including designer ones. They are great because – in addition to holding mail, keys and other important things – they can also hold decorations and are often coordinated with one or more mirrors.
– Benches. Among the most popular furnishings for a cosy yet sophisticated entrance, benches are never lacking. Again, there are different design solutions: simple in wood, or upholstered in velvet or even leather.
– Shelves. Shelves, drawers, hanging shelves or an actual bookcase. A shelf becomes a multi-purpose pocket emptier, always useful for leaving indispensable items near the door. But it also offers an ideal space for photos and paintings.