Autumn-winter trends: the
living area is open space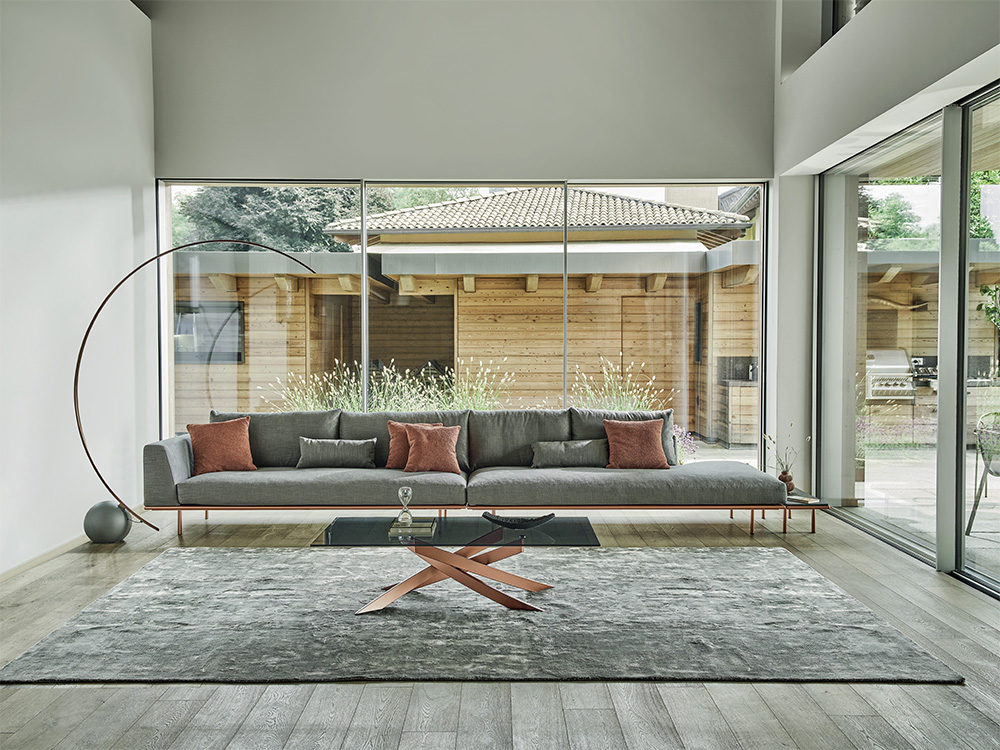 In the last two years , we have become accustomed to living at home in a new way: our homes are becoming more and more open-plan, spaces are becoming larger, more convivial.
In the last two years , we have become accustomed to living at home in a new way: our homes are becoming more and more open-plan, spaces are becoming larger, more convivial. This makes it possible to create multi-functional environments that allow people to combine private and working life even in small spaces. In particular, it is the living area that has been most affected by these changes: coffee tables that become desks, multifunctional walls, partitions created through the use of bookcases, shelves and shelves that become valuable allies in creating smart working stations. Functionality and comfort define environments and their evolution.
Interior design: trends and guidelines
The trend is the use of cozy materials: ultra-soft fabrics and natural textures are making a comeback in interior design. Refined and chic, in neutral and cosy colours. Weaves, bouclé, sherpa and other 'furry' materials bring warmth without too much colour. Woven poufs or blankets wool blankets to put on the bed or sofa are perfect for relaxing in autumn and winter.
Curved furniture: the geometries of the past give way to curves and enveloping silhouettes. Nothing better than a sofa or an armchair with soft lines, to relax while it rains outside: this is the furniture trend for 2023.
Grandmillenial: the term may sound strange, but it means nothing more than the matching of Millennial and Granny terms. That is: a vintage design style as opposed to minimalism: crocheted doilies, large armchairsEnglish China cups, curtains and floral upholstery, mirrors mirrors of yesteryear.
2023 Sofa trends
In the 2022/2023 autumn/winter, earthy colours prevail: starting with light wood, and ranging from burnt orange to olive green. Also very much in vogue are spicy colours such as turmeric – the quintessential yellow of the season – but also cinnamon, paprika, bronze. The softness is able to convey relaxation and tranquillity, making the home a chic place, characterised by charm and personality, the ideal place in which to find a comfortable refuge. Comfy ottomans, woollen blankets and warm plaids, to be kept on the sofa as decoration, are a must.
Living area furniture: tips and tricks
Minimalist style. Interior design proposes eco-friendly materials such as glass, wood, stone, metal, which are highly customisable and can add character and style to the home. Also in vogue is upcycling, a sustainable strategy with which to breathe new life into forgotten furnishings or those stored in the attic.
Rustic chic style. A solution that warms the room, favouring wooden furniture with a vintage flavour, which makes the home cosy.
Japandi style. It blends Japanese and Nordic aesthetics. Those who love oriental atmospheres but, at the same time, do not want to clutter their homes, making them chaotic will love this style. Therefore, essential furniture with simple lines and natural materials such as wood are favoured.
Eclectic style. It means choosing one neutral shade that will dominate the room and adding totally contrasting furnishings: completely different chairs, boldly coloured carpets, a: in short, playing with so-called mix & match furniture.
Sofa colour: how to choose the best match
Bright or dark colours for large spaces, patterns and light shades for small ones: this is the basic rule. A large space lends itself to sofas in bright or dark colours to be combined with other accessories such as the equipped wallthe coffee tablethe sideboardthe lampand the carpet.
If, on the other hand, space is at a premium, it is better to opt for light shades and avoid dark tones, which can shrink the room. In this case, a white or light grey or taupe sofa gives a feeling of spaciousness. To choose the perfect sofa colour, natural light must also be considered. If there are very large windows in the room that provide brightness, it is right to opt for a black or otherwise dark sofa. While when there is a lack of light, it is better to go for a light colour.